Forsage-200M inverter welding machine
In stock
The FORSAZH - 200M inverter welding machine , implemented on the basis of the FORSAZH - 200 welding machine , has advanced functionality, provides stable welding properties and high productivity.
The FORSAZH - 200M welding machine meets the requirements of RD 03 - 614 - 03 and allows you to perform welding in conditions with increased safety requirements.
The compact, lightweight, easy - to - operate welding inverter FORSAZH - 200M has a shockproof protective case, stable on uneven surfaces. The comfortable shoulder strap allows you to carry the welding machine comfortably to the work site.
To ensure greater mobility, it is possible to increase the length of the supply cable up to 100m.
Functionality
Presetting and control of the welding current by a digital indicator

Limitation of open circuit voltage to Uxx & lt - 12 V

Extended warranty period (3 years)

The performance of the welding machine when the supply voltage drops to 140 V

Overvoltage protection - automatic shutdown of the welding machine when the supply voltage is more than ~ 275 V or less than ~ 120 V

Ability to work with electrodes up to 5 mm

The ability to connect a remote control (RC)

Possibility of power supply from autonomous mobile power plants with a capacity of at least 14 kV * A

Automatic shutdown of the welding machine when overheating

Stabilization of the welding arc current

ARC FORCE, HOT START, Antistick functions

Memory function of the last value of the output current

Automatic fan control to prevent dust settling

Can be used for argon - arc (TIG) welding with a special torch.
Volt - ampere characteristics
At supply voltage values of 187 . . . 242 V, stable output characteristics of the welding machine are guaranteed .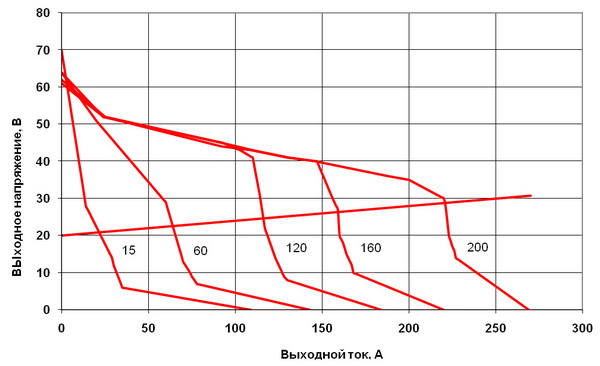 Family of static current - voltage characteristics of the device at a supply voltage of 220V
A unique feature of the device is that it remains operational even when the supply voltage drops to 140V!
At the same time, the output current of the welding machine decreases to 120 A, which allows for manual arc welding with electrodes with a diameter of 3 mm. This is especially important in areas with unstable supply network parameters, especially in rural areas.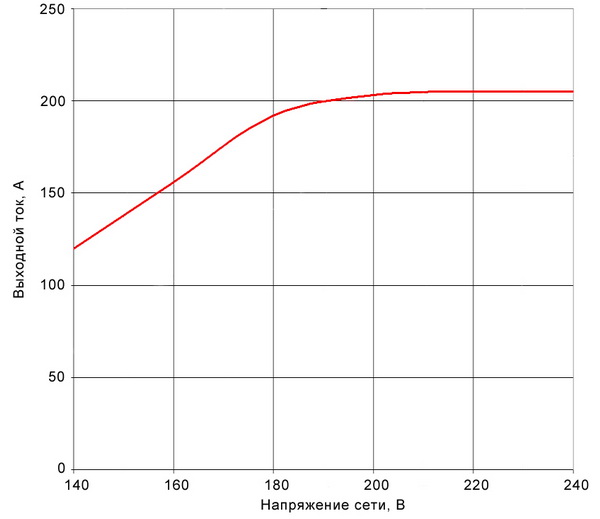 Dependence of the value of the maximum output current on the value of the supply voltage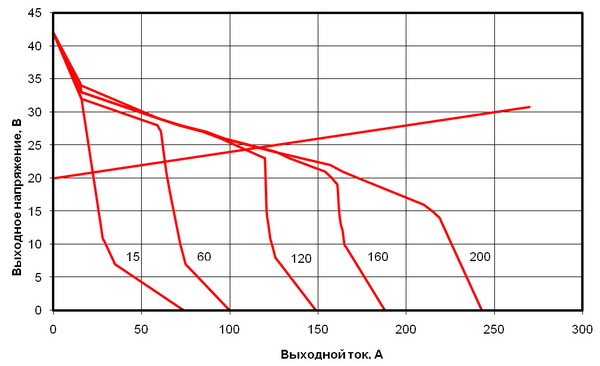 Family of static current - voltage characteristics of the apparatus at a supply voltage of 140 V
Specifications
Power supply

Power supply, V

single - phase network 220 V 50 Hz

Main characteristics

Main operating mode

MMA

Additional operating modes

TIG

Electrode diameter, mm

1.6 - 5

Range of regulation of welding current, A

- MMA mode

15 - 200

No - load voltage, V

- in active mode

65 - 100

- in safe mode

& lt - 12

Load percentage, %

- at a welding current of 140A

one hundred

- at a welding current of 160A

80

- at a welding current of 200A

40

Maximum power supply network, kVA

nine

Display and control

Digital indication of set and current parameters

+

Remote control

+

Weight and dimensions

Dimensions, mm

295x145x182

Weight, kg

5.9

Other characteristics

Working range of ambient temperature, ° С

- 20 . . . + 40
Documentation
Passport for inverter welding machine Forsage - 200M

Operation manual for the Forsage - 200M inverter

Certificate
G - a - b - a - r - i - t - y - , m - m - 295x - 145x - 182
M - a - c - c - a - , k - g - 5.9
K - a - b - e - l - b - (d - l - i - a - p - p - a - r - a - t - o - v - d - o - 200A - ) d - l - i - n - o - th - 2.5m - - 2 330.00 rubles

A set of additional accessories for single - phase welding machines The set is adapted for welding machines: Forsage - 161Forsage - 200Forsage - 200MForsage - 200PAForsage - 201AD
Information is up-to-date: 12.11.2021
Read more
Unbelievable price on Forsage-200M inverter welding machine in Rjazan (Russia) company GRPZ, AO.